COVID-19, Delta Variant, and Vaccination FAQs with Dr. Atul Gupta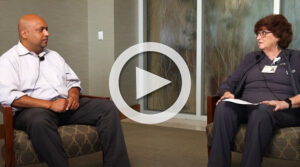 Dr. Atul Gupta, Medical Director of Infection Prevention at Silver Cross Hospital, has been a constant source of knowledge and reassurance throughout the 18-month-long COVID-19 pandemic. We've sought his counsel on every topic related to COVID-19. We've proudly watched him on the Chicago news, and we've featured him in so many of our Silver Cross videos related to the pandemic.
Here is his latest video with Silver Cross Hospital's 6:4 nurse Sheree Mladic, RN.
Hedges Clinic is Relocating to New Building in Mokena this Fall
Important Visitor Guidelines
Your Safety is Important to Us.
We want you to feel confident about visiting Hedges for your next in-person appointment. We have expanded safety measures, and, in many respects your patient experience will be more comfortable, modern, and efficient than ever before. We understand you may have concerns about coming to our office during the COVID-19 pandemic, but you have our assurance it is safe to come to Hedges.
We've taken the following precautions to protect our patients and staff:
Universal masking of all staff, patients and visitors. When you arrive at Hedges, you will be required to wear a mask. This gives an added level of protection for every person who comes into our facility.
Temperature Scanning at Entrance. All patients and visitors are required to have their temperatures when they enter the building. In addition, they must answer a few brief COVID-19 screening questions.
Social Distancing in our Lobby and Waiting Rooms. Please be sure when you are seated in one of our waiting areas to be at least 6 feet apart from the next visitor or patient.
Thorough Cleaning and Disinfection. All clinical areas are thoroughly cleaned and disinfected after every patient encounter. This has been our practice long before the pandemic. In addition, we are putting additional focus on cleaning high-touch areas.
We will continue to focus on delivering care at the highest safety standards. We remain dedicated to serving our patients and community. From all of us at Hedges Medical Group, thank you for trusting us with your care.