WE ARE MOVING! Please read.
The office will close December 17-19. We re-open on December 20, 2021.
The new address is: 21205 Owens Rd., Suite 3., Mokena, IL 60448

(815) 469-2123
Hedges Clinic was located at 222 Colorado Ave. in Frankfort since 1979. While the building served its purpose, it was time for a new and more efficient facility. We will continue to provide excellent quality healthcare and customer service to the Mokena, Frankfort, New Lenox, and surrounding areas.
We are in the Silver Cross Health Center building located on the southeast corner of Owens Rd. and Route 30. Owens Rd. is just wes of the JC Penny and Meijer shopping area. The entrance drive is off Owens Rd.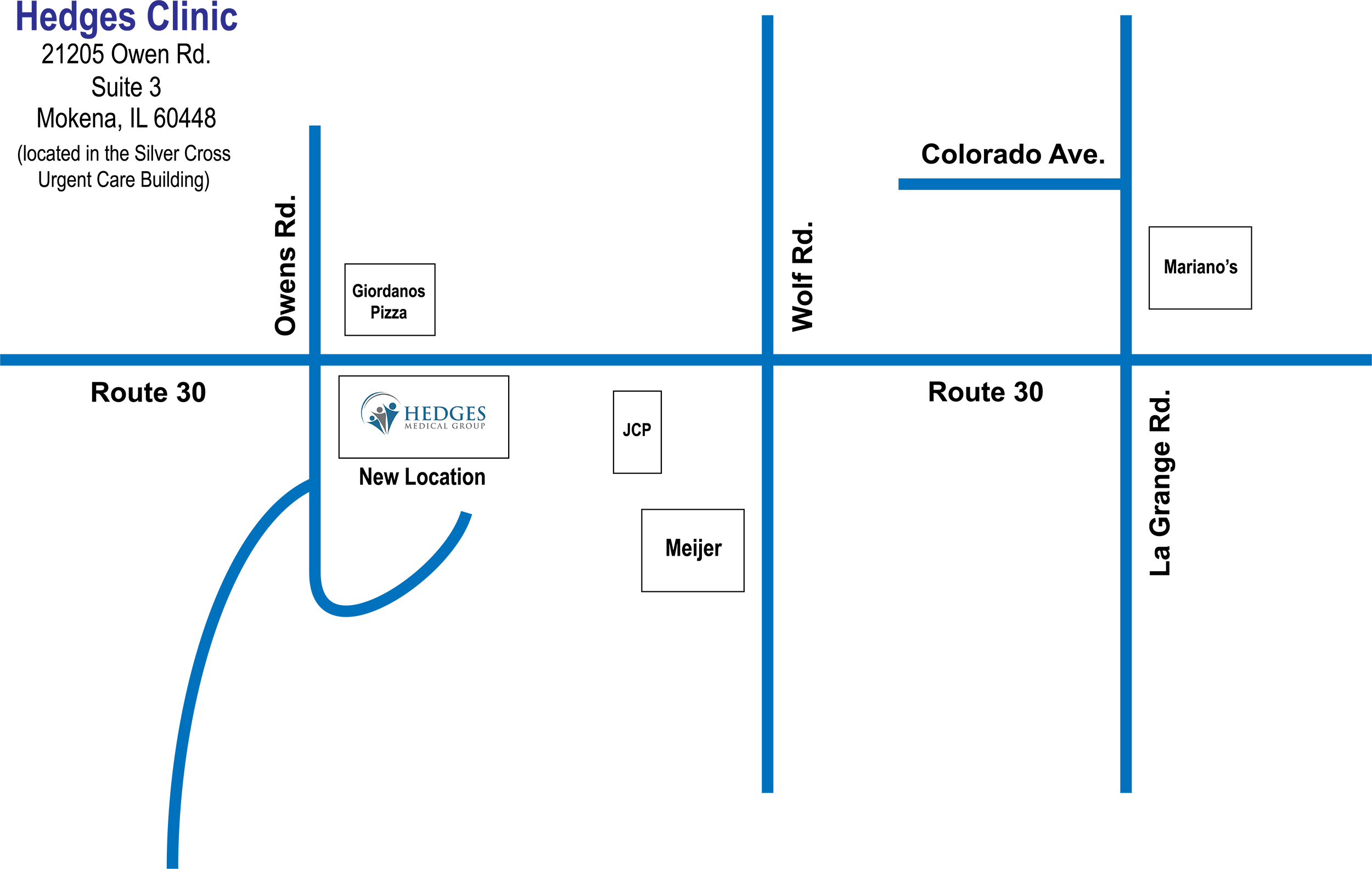 Silver Cross Urgent Care Opens Oct. 28 in Mokena

New Lenox, IL (Oct. 28, 2021) — Silver Cross Urgent Care in Mokena opens its doors at 8 a.m. on Thursday, Oct. 28.
The new center is located at 21205 S. Owens Road, at the southeast corner of U.S. Route 30 and Owens Road, and will be open for care seven days a week.
The center features five comfortable exam rooms, on-site lab and X-ray services, a procedure room and a spacious waiting room. Walk-in care is available with no appointment needed. However, for added convenience, you can schedule a visit online while you wait at home or work.
The new center will be staffed by licensed nurse practitioners and physician assistants with hours from 8 a.m. to 8 p.m. Monday through Friday and 8 a.m. to 5 p.m. on weekends. The phone number is (815) 300-CARE (2273).
The 20,000-square-foot facility will also be home to Hedges Medical Group, which is relocating its practice from Frankfort, beginning in December.
Hedges is a well-known and well-respected physician practice that's been serving the southwest suburbs and surrounding communities for 70 years with board-certified family practitioners, pediatricians and internists.
For more information about Silver Cross Urgent Care, visit www.silvercross.org/urgent-car
COVID-19, Delta Variant, and Vaccination FAQs with Dr. Atul Gupta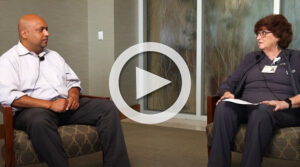 Dr. Atul Gupta, Medical Director of Infection Prevention at Silver Cross Hospital, has been a constant source of knowledge and reassurance throughout the 18-month-long COVID-19 pandemic. We've sought his counsel on every topic related to COVID-19. We've proudly watched him on the Chicago news, and we've featured him in so many of our Silver Cross videos related to the pandemic.
Here is his latest video with Silver Cross Hospital's 6:4 nurse Sheree Mladic, RN.
Hedges Clinic is Relocating to New Building in Mokena this Fall
Important Visitor Guidelines
Your Safety is Important to Us.
We want you to feel confident about visiting Hedges for your next in-person appointment. We have expanded safety measures, and, in many respects your patient experience will be more comfortable, modern, and efficient than ever before. We understand you may have concerns about coming to our office during the COVID-19 pandemic, but you have our assurance it is safe to come to Hedges.
We've taken the following precautions to protect our patients and staff:
Universal masking of all staff, patients and visitors. When you arrive at Hedges, you will be required to wear a mask. This gives an added level of protection for every person who comes into our facility.
Temperature Scanning at Entrance. All patients and visitors are required to have their temperatures when they enter the building. In addition, they must answer a few brief COVID-19 screening questions.
Social Distancing in our Lobby and Waiting Rooms. Please be sure when you are seated in one of our waiting areas to be at least 6 feet apart from the next visitor or patient.
Thorough Cleaning and Disinfection. All clinical areas are thoroughly cleaned and disinfected after every patient encounter. This has been our practice long before the pandemic. In addition, we are putting additional focus on cleaning high-touch areas.
We will continue to focus on delivering care at the highest safety standards. We remain dedicated to serving our patients and community. From all of us at Hedges Medical Group, thank you for trusting us with your care.